Dogs and foxes are meant to be sworn enemies but Juniper the fox and her doggy pal Moose in this story clearly did not get the memo. They have formed a magical bond, an unusual friendship that we actually think it just existed in a fairy-tale universe.
Moose is a 6-year-old Australian Shepherd who was rescued by Jess and her boyfriend when he was a puppy. After that, the couple adopted Juniper, a North American Red fox, when she was just five weeks old and have raised her as a spoiled house pet.
According to the owner, Juniper even acts like "a little girl with a crush" when she is around Moose. They become best mates and spend all their days together – from eating breakfast to snuggling at night. They make such a wonderful friendship that the tiny fox Juniper thinks that she is also a dog.
However, Moose is aware Juniper is not a dog due to the "hugely different" body language. In spite of the fact that dogs and foxes don't get along well, Moose shows no hostility to Juniper and wants to welcome her as a best friend. The pair is now inseparable, and their friendship is wonderful.
"Foxes only bond closely with one or two people. My boyfriend and I are the two people she's closest to. She's quite shy around others, even those who have been a huge part of her life growing up."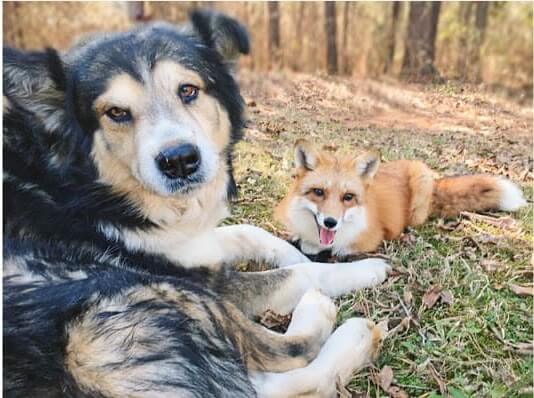 "Moose has been around a vast array of animals. He has a very gentle disposition especially with the smaller ones. Since Juniper was very tiny when we brought her home he immediately took the role of guardian. She's also loved him from day one," Jess said.
It's really important for us to show this special bond because we truly hope that this story will help people to see foxes in a different way. We love animals because they are really great friends that we need to learn.
Feel free to share and don't forget to let us know your thoughts in comments.
h.t: cesarsway