Losing a good friend is never easy, especially when you don't understand why you lost them. Nine-year-old Harry the Shih Tzu spent his whole life with his friend George by his side. So when, George passed away from kidney failure, Harry was devastated and upset.
Image Credits: Caitlin Wynne
Owner Caitlin Wynne, 17, from Cheshire, England, adopted George in 2004 when he was almost a year old. And several years later, she added Harry to her family. Caitlin said that both of them were Lhasa Apsos breeds, grew up as puppies and did everything together including playing, eating, sleeping together every night on a single dog bed.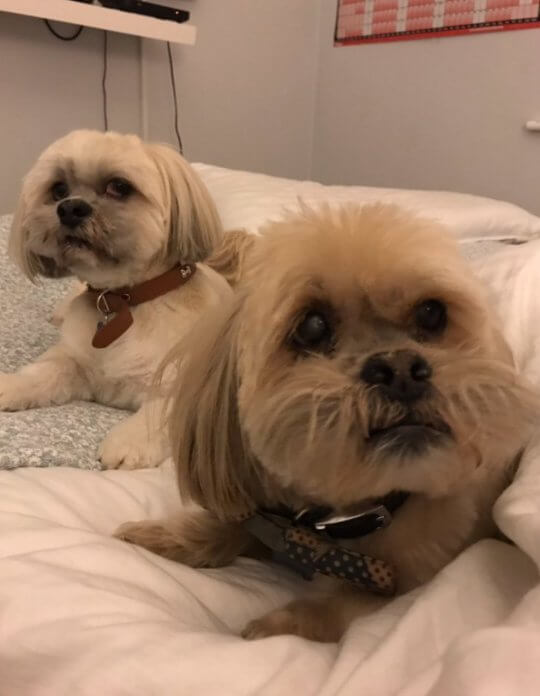 Image Credits: Caitlin Wynne
From the moment they met, they formed a strong bond and grew to be inseparable: "We got Harry when George was 7 because it seemed like he needed a friend," Wynne told The Dodo. "They got on really well. Harry was always more playful and energetic than George, but they'd still play and would always sleep next to each other."
Image Credits: Caitlin Wynne
Whether it was playing, eating or sleeping, George and Harry always did it side by side. "They used to share the bed, but when George became ill, Harry slept next to the bed to give him space," Wynne said. "I slept on the sofa the night before we had George put to sleep to keep him company and Harry was pacing around the room crying. [He] wouldn't sleep all night, as if he knew something was wrong."
Image Credits: Caitlin Wynne
Sadly, George was diagnosed with kidney failure last year and Caitlin's family had to make the very difficult decision to put him down at the age of 15. When George was put to sleep, Harry refused to leave his side until he closed his eyes. It was heartbreaking for Wynne to watch Harry try to care for his best friend.
Image Credits: Caitlin Wynne
It's been almost a year since George passed on, yet Harry still misses him so much. He always leaves a space in bed for George because he's hopeful he will return. "He sleeps on the floor to the side of the bed now quite often," Wynne said, "but I didn't realize why until I was looking through photos of them both from a year ago."
Caitlin took photos of heartbreaking moment of Harry sleeping and shared them on Twitter. "I'm full on crying rn…he always let George sleep there and he died almost a year ago and he still lies there." This just shows that Harry's love for George will exist forever.
Wynne and her family are trying their best to ease Harry's grief. And with the love and care of Wynne's family, we hope that he will heal soon and enjoy his happy life.
Do you love this touching story? Please share with your friends and let us know your thoughts in comments!
H/T: The Dodo