This ginger cat is not your ordinary house cat. Nothing makes him happier than going to school and attending classes. In fact, he's earned his own student body card and become the official campus cat at Leland High School in San Jose, California.
Meet Bubba the cat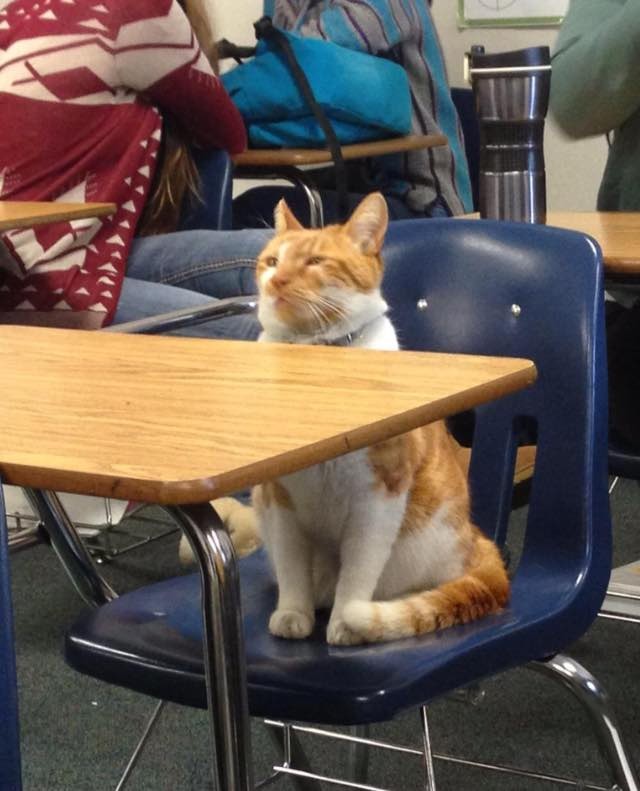 Bubba is a social cat who has purrfect attendance. He loves going to classes, sporting events and hanging out with students on campus.
The only difference between Bubba and the rest of the students is t
hat he can roam the school's halls freely during class. "If he wants to be excused, he doesn't have to raise his paw; he just meows." (Mercury News)
Bubba's supporters managed to get a student body card for him!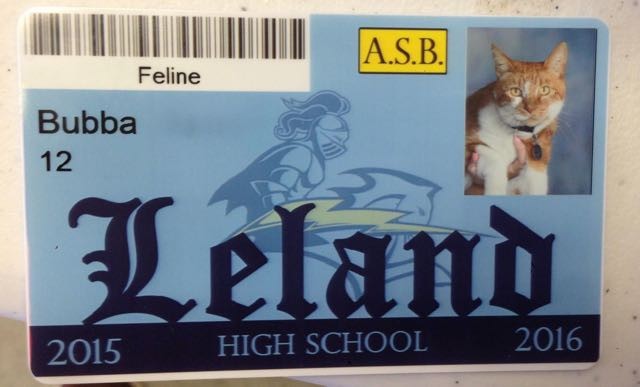 "He's really loud," said Amber Marienthal, who adopted Bubba back in 2009.
Bubba's home is right behind Leland and Bret Harte Middle School. He started as an indoor cat but he let his family know loudly and frequently that he wasn't happy about staying in and he wanted to be with the students.
Bubba waits by the door everyday for school to start. "Open the door meow!"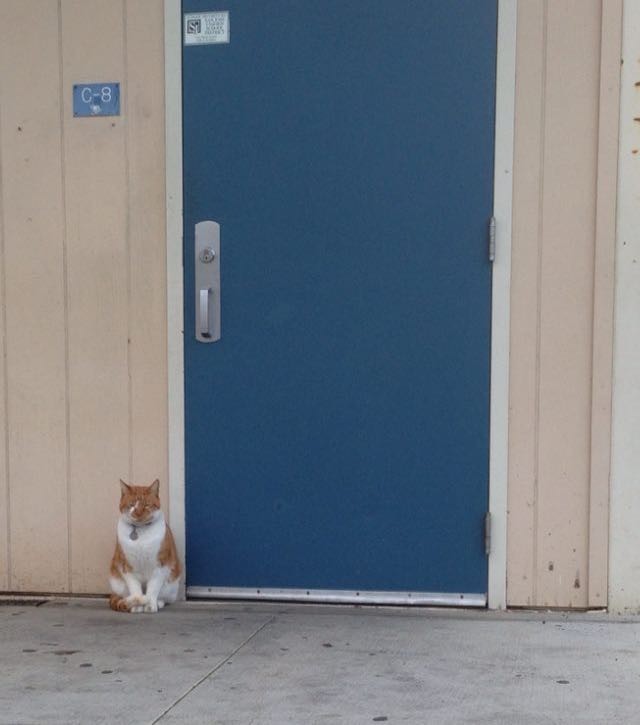 "The students at Bret Harte petitioned to have a statue erected in his honor," Marienthal said. However, their petition was denied :(.
Finally the students have arrived. Bubba greets them with meows and asks to be petted.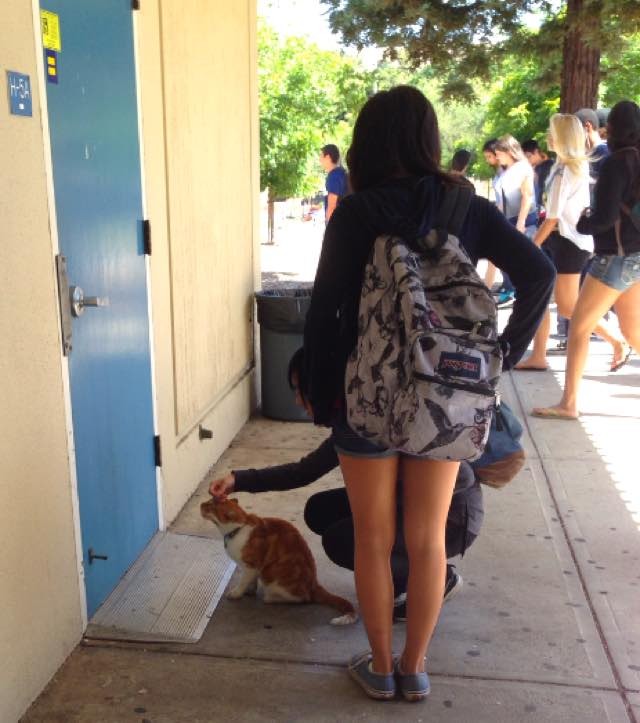 "He's really social and he has no fear," Marienthal said.
"One teacher made the mistake of buying treats for him," Marienthal said. "Bubba would meow for treats," waiting by his classroom door during class.
"Locker inspections almost complete!"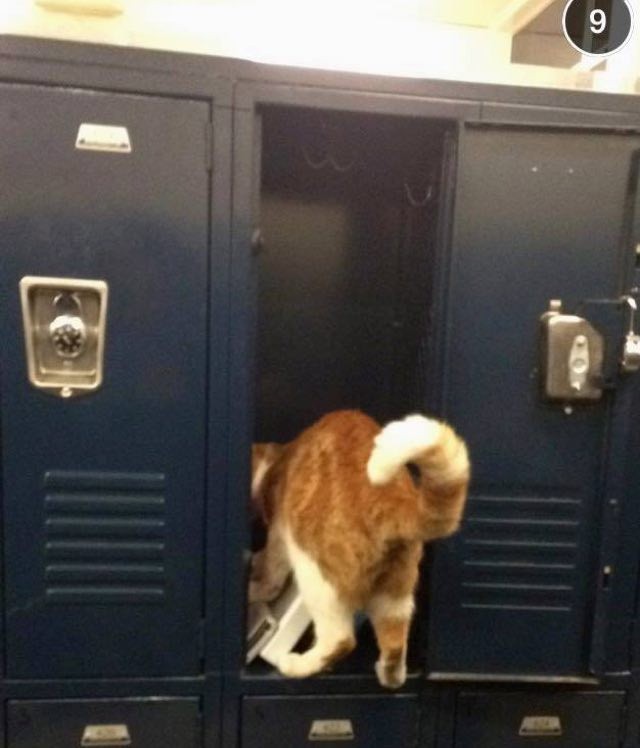 "We'd love it if they let him do cap and gown in 2017," she added. "That's the group that's been with him through Bret Harte and Leland."
"He waits for school to start, and he doesn't come home until all the sports are done," Marienthal said. That's what makes him happy. (Bubba's Facebook page)
"Awaiting the arrival of my people."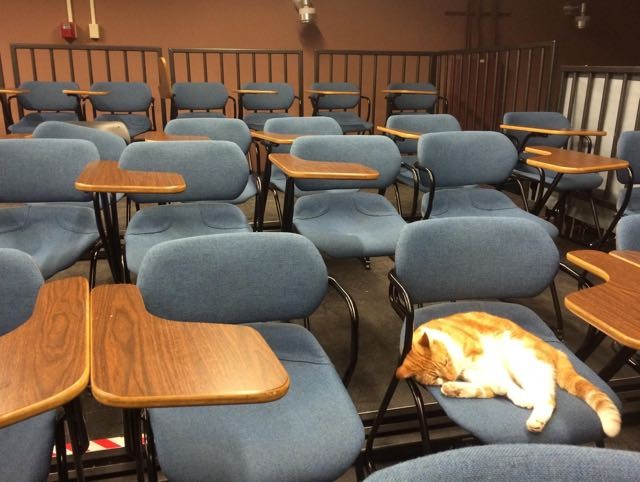 "Today, I pick you to be my desk buddy."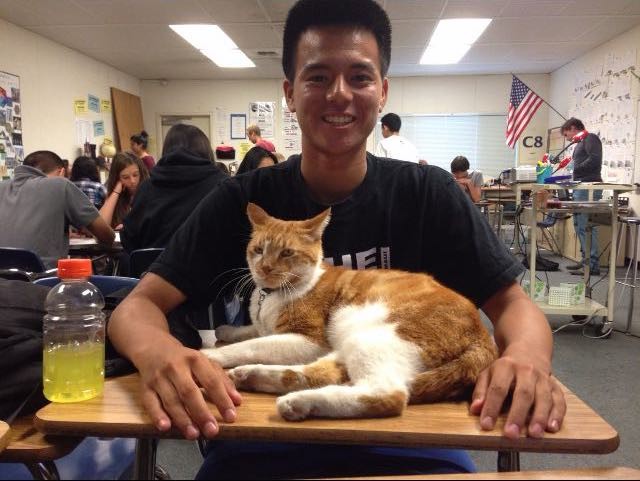 Bubba encourages students to work hard and never miss school!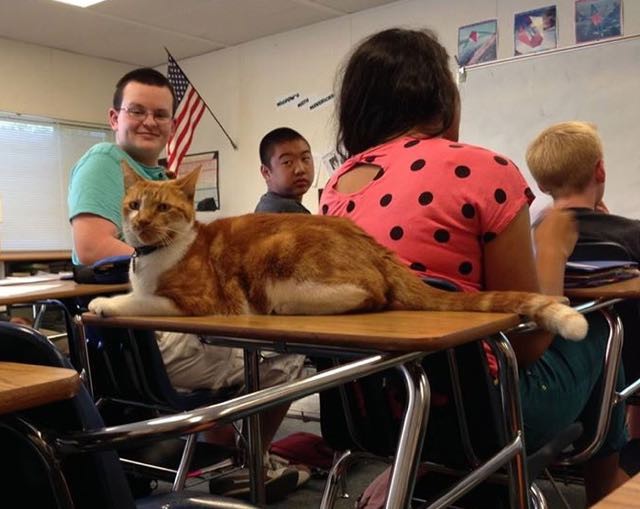 Updates:
Bubba made it in the yearbook again :).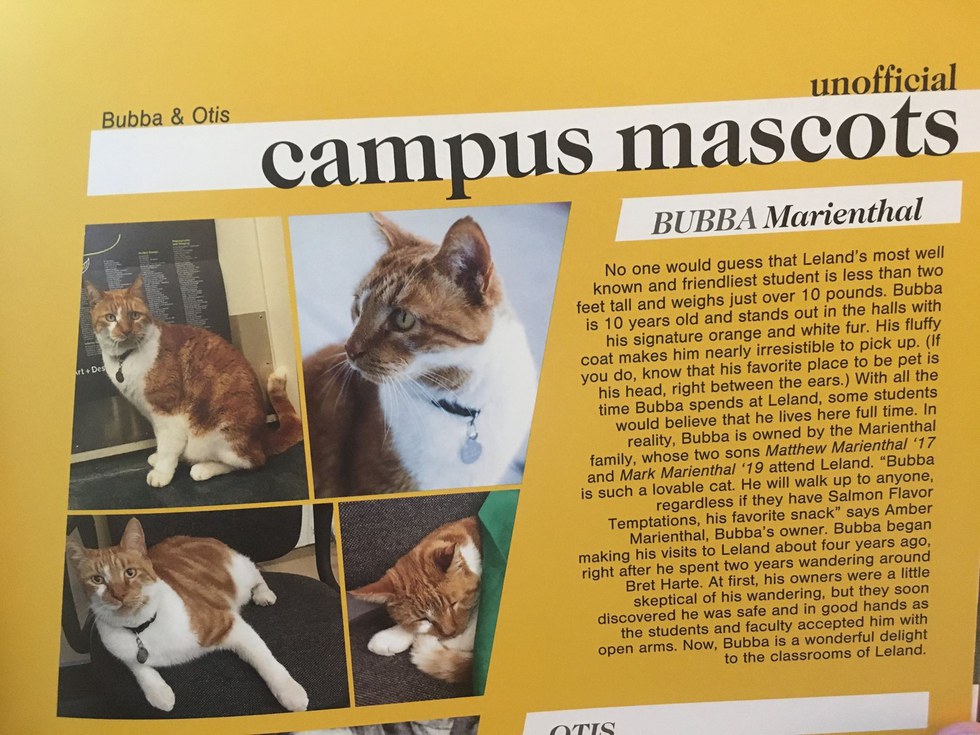 He officially graduated High School this June (2017) :).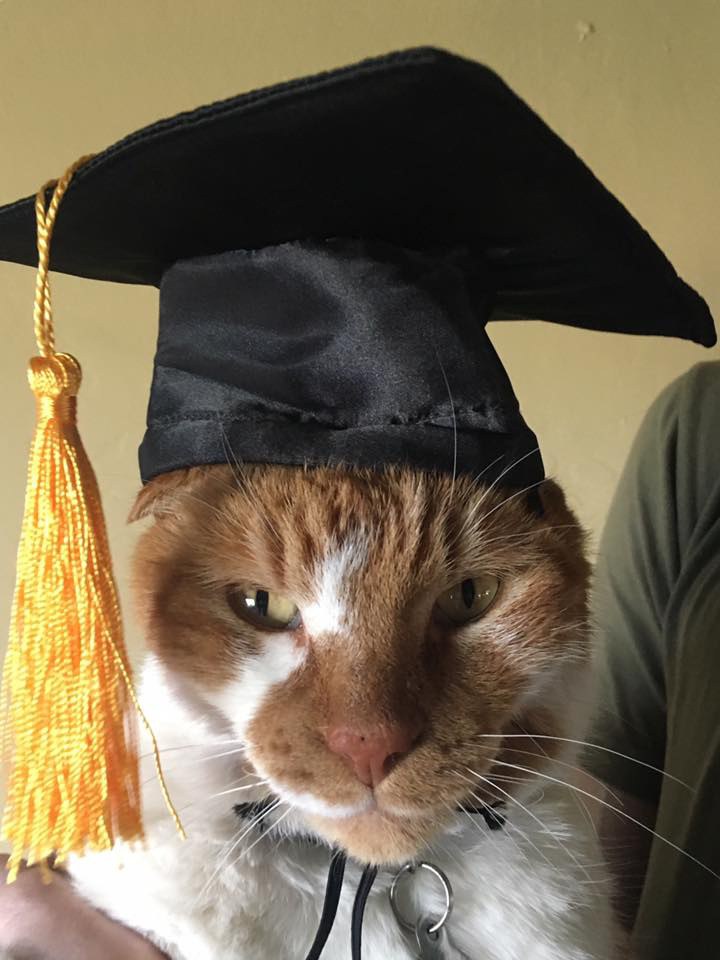 Even after graduation, Bubba still goes to school and hangs out with the students.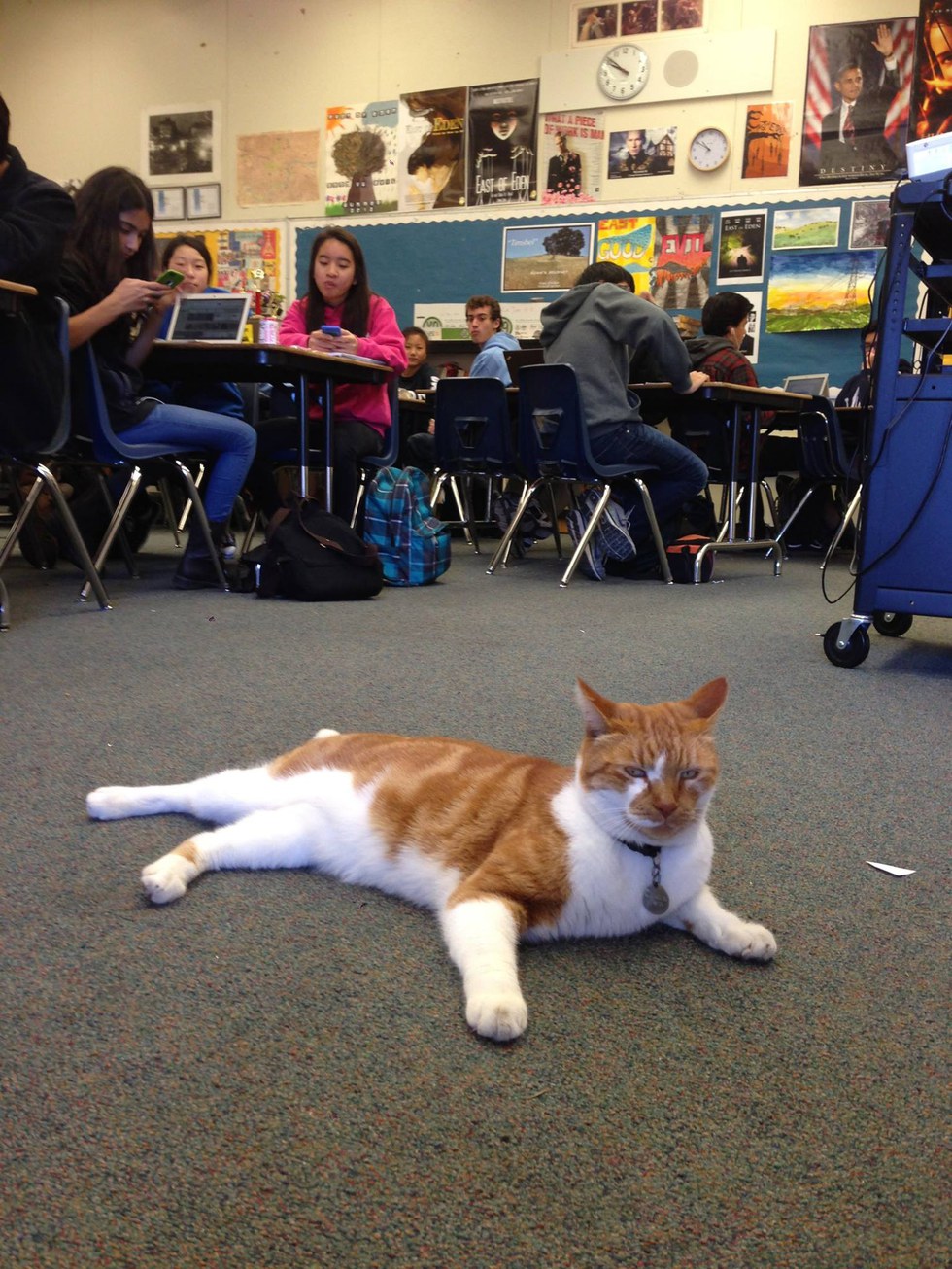 Share this adorable story! Follow Bubba on Facebook.
More info: bubbatheschoolcat  | Via: lovemeow